Sterling 2000 Custom Curve
A great stairlift that solves the problem of climbing curved stairs. Sterling has a rich manufacturing history and vast knowledge in the design and manufacture of custom curved lifts. The Sterling 2000 offers more options than any other lift in the marketplace, and with our everyday low pricing, unbeatable warranty, and complete commitment to customer satisfaction, it is the best value you will find anywhere. Our pricing for this elegant stairlift begins at $ 9,895.
Features:
Custom built for your stairs, sophisticated computerized
photo survey produces the most streamlined fit available
Comfortable padded seat with large one piece back
Easy To Use "No Squeeze" Safety Belt
Keyed Lock-Out
Therapist designed control toggle
Seat, arms, and footrest fold when not in use
Numerous safety sensors stop lift automatically if obstruction sensed
Options:
Power Swivel
Power Folding Footrest
Deluxe Extra Wide Seat
Power Folding Hinge
Specifications:
Max. weight limit

254lb
- heavy duty version
302lb
- hinge teack
254lb
Min. folded width to footplate
15¾"
Min. open width to edge of


footplate
27"
Armrest width - internal

18"
Footplate to seat height
- standard seat option
19-24¼"
- perch seat option
25½-34½"
- fixed seat option
16¾-17½"
Min. footplate height
2¾"
Min. track intrusion into


staircase
4½"
Seat depth
16¾"
Min. swivel radius

26¾"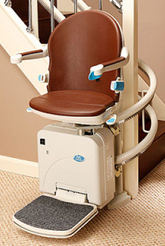 Pricing:
Custom curve stairlift pricing depends greatly on the number of turns as well as the overall length of the staircase. As one of Sterling's largest curved stairlift dealers in the country, we are able to provide you with professional installation and unbeatable pricing.
Example Stair Configurations

Sterling curved stairlifts can travel around corners, across intermediate landings and even up spiral staircases!
Call today to schedule a FREE no obligation home evaluation.

1-866-549-8893